Fabrication of the Fountains
During the past 150 years there have been few changes to the methods used to manufacture Wallace Fountains. The decorative cast iron process was invented in France by Jean Pierre Victor André who established a successful, award-winning art foundry in 1835 and set up Val d'Osne, a workshop foundry in the Haute Marne region. The Val d'Osne foundry manufactured the first Wallace Fountains in 1872 and Val d'Osne markings can be found on the oldest fountains still operating in Paris. Today, the fountains are produced much in the same way by GHM-Sommevoire, a competing company that purchased the Val d'Osne operations in 1931 and later moved the manufacturing of the fountains to Sommevoire. Since 1971, all Wallace Fountains have GHM markings. At GHM, Wallace Fountains are cast, assembled and given a protective layer of zinc coating before being shipped to the new owner.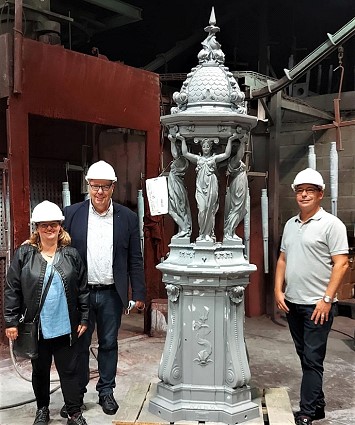 View the video below to see the fascinating way Wallace Fountains are made.