4

Wallace Fountain Award
Recognizing Kindness, Generosity and Cooperation for the Human Good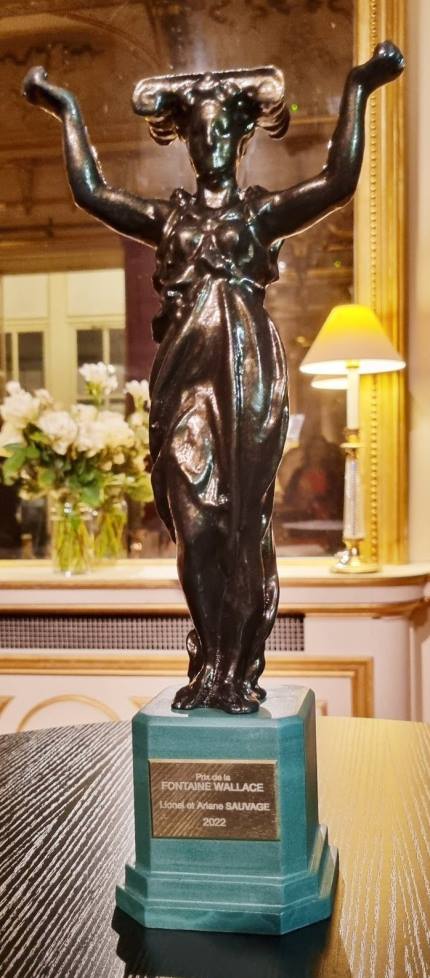 The Wallace Fountain Award is an international honor presented to an individual with a proven record of exceptional generosity who, in the spirit of Sir Richard Wallace, uses personal wealth and resources in partnership with public or non-profit organizations to benefit the common good.
The recipient must be actively involved in an effort to alleviate human suffering and/or inequity caused by a lack of access to essential human needs, education, culture or opportunity, and whose generosity encourages others to make philanthropy a significant part of their life's work.
The award is presented at a gala dinner honoring the recipient and benefiting Wallace related charities. The first award was presented to Lionel and Ariane Sauvage in Paris on the 22nd of September 2022 in conjunction with the 150th Anniversary of the first Wallace Fountain. The next award will be presented in Paris in the fall of 2024.
The award recipient will be chosen by a panel of distinguished judges.
Criteria for nomination and selection include the following:
1. Nominees must use their personal wealth to support their philanthropy.
2. Nominees must be personally involved in their giving projects.
3. Charitable projects of the nominees must be cooperative activities that meet an essential human need or      address the causes of inequity and lack of opportunity.
4. The philanthropist receives no commercial benefit or enrichment from the charitable project.
5. The nominee must be available to attend the award ceremony.
Closing date for letters of nomination is June 1, 2024.
Letters of nomination and inquiries can be emailed to award@wallacefountains.org.
GHM Designs and Donates Award Statuette
La Société des Fontaines Wallace created the Wallace Fountain Award to recognize and encourage philanthropy for the common good in the spirit of Sir Richard Wallace, the man who donated the Wallace Fountains to the city of Paris so everyone could have access to clean drinking water.
The physical award was designed, fabricated, and donated by GHM-Eclatec, the foundry that continues to manufacture Wallace Fountains using the traditional methods of forging decorative cast iron. The statuette is a half scale replica of one of the four caryatids found on the iconic fountains. The Wallace Fountain caryatids represent the human virtues of kindness, charity, simplicity and sobriety.
The arms of the caryatids hold up the dome of the fountain from which the gift of free, clean drinking water flows. Just as clean water is necessary and essential for human life, the virtues represented by the caryatids on the fountains are necessary and essential to hold up humankind and provide social cohesion.
The first award was presented to Lionel and Ariane Sauvage as part of the 150th anniversary of the first Wallace Fountains of Paris installed in 1872. The presentation took place at a charity celebration dinner at the residence of the British Ambassador to France on the evening of 22 September 2022. Dame Menna Rawlings, Ambassador to France, presented the award.